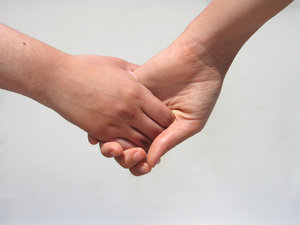 I began sharing with you last week, Jane's* story; and we'll continue to share her journey over the next few weeks. I do ask that you keep in mind that this is her story, in her own words. Where appropriate we've changed names in the interests of confidentiality.
If you recall last week, Jane began by revealing what her family life was like growing up (if you missed part one, please go here: http://www.coachingkids.org/janes-story-part-1/), and she shared her desire for a "normal" family life.
Join me as we continue to listen to her story…
In February of 2003 I graduated from college with an associate's degree. (My husband) had convinced me a couple of months prior, to follow him and his parents out to Oklahoma to start a new life. He moved in December of 2002, and I packed up the babies and followed him in February. I moved to Oklahoma leaving my entire family behind in Washington State. This is where my true nightmare began.
It was April 13th, 2003, the day before my 24th birthday. Makayla was 2 ½ years old. She wanted her daddy's attention; he was brushing her off, as he always did. She turned around and looked across the street. She saw our neighbor getting out of his car. She smiled her big beautiful smile and waved as she shouted "Hi Sean, Hi". That pissed my husband off so bad-seems he even got jealous when it came to his daughter. He started calling her names; names that would be inappropriate to call anyone, much less his two year old daughter. That was the last straw for me. He could say whatever he wanted to me, but he wasn't going to talk to my babies like that. I told him that he needed to leave, to move in with his parents. We argued a lot that night, but eventually I got him to leave. With the strong support from a friend, I was able to keep him from coming back.
A week later on Easter, I took the babies out to his parent's house to see them and their daddy. We were going to fix the kids pizza and do some talking. I wanted to do the "right thing", "the grown-up thing". I was going to try. We did some talking and he admitted he had an anger problem and that he would work on it. I just wanted us to be a happy family. He said he wanted that too, and I believed him. I thought there was hope for us. Maybe I just wanted to believe it. I put a frozen pizza in the oven and I accidently burnt the outside. He freaked out. We started arguing real bad and he ended up saying some horrible things. He told me to get my kids and leave and to never come back. He said that he was doing just fine without us, and never wanted to see us again. I was trying to round all the babies up and get them outside to the car and his parents kept trying to stop me. They kept saying their son was just mad and upset, that he didn't mean it. I continued to try to get everything, telling the babies to get in the car. By this time, my husband was trying to stop the babies and telling me he was sorry. I was getting panicked. I thought he was going to keep them from me. I finally managed to get everyone in the car and we left.
That next week is when my husband really started playing his games and giving his threats. He came by to get his stuff, but he also took our kitchen table his grandma gave to us. He took Christian's high chair his parents gave to me at my shower. He took the rocking chair that I rocked the baby to sleep in every night, because after all, he is the one who spotted it on sale. He didn't stop there, since the utilities were in his name, he was able to have them shut-off. My long distance and electric were shut-off only 9 days after we separated. I wasn't able to get either one of them turned on at that same address, with the same last name. He wouldn't fix my long distance because he didn't want me to be able to contact my family who was all long distance. I finally convinced him to fix the electric, after I begged him not to do that to his babies. It was only April and still cold. They could get sick.
April 26th only 16 days after he left, I went to a pay phone and called my mom. She told me that my husband had called the previous day telling her that in the 2 weeks that he had been gone, I turned into a horrible mom. He even said he was concerned about sexual abuse, "after all", he said, "Jane* was abused, what would stop her from abusing them?" My mom was worried that he would try calling authorities and making up stories. He was great at making up convincing stories. I told her that she was being paranoid, that even though he was acting ugly, he knew what a good mom I was and that he would never make up stories stating otherwise. Three days later on April 29th, his mom came by for a surprise visit to see the kids. She tried to convince me to take him back, I held my ground. She left at about 9:45 that morning and that afternoon at about 1:00 pm a DHS worker came by with an officer. There had been an emergency report claiming that I had physically abused my children. They had reports that Makayla had a hand print across her face and that Isaiah had a black eye. The report also claimed that in the 16 days after he moved out, the babies were malnourished and underweight and that my house was nasty. The officer looked over my babies and said that there were absolutely no marks consistent with the claims and that it was a false report. The DHS worker stated that they were all "plump" so they were definitely not underweight ….another false report. Now she did say that my house was messy…but far from nasty. She gave me a few things to correct and then left. She came back at 4:00 pm and everything was done. She said that she had felt that I was overwhelmed with 3 babies and going through a separation. She knew my babies were not abused and they were not neglected. She filed her report with the DA stating that there was no deprived child petition.
Over the next couple of months, the babies and I didn't see or hear much of my husband or his parents. I had acquired a protective order against my husband sometime in early May for some threats he had made. He used that as an excuse not to have to "deal" with his kids. I only brought them over there a few times, and when I did, I would make him visit the babies while they sat in the car with the doors open. Some may say that was wrong, but after the Easter incident, I was scared to death that if I let them out of their car seats he would find a way to take my babies into his house and keep them from me. I was scared to death of him taking my babies. There was a time in June or July when he came by out of the blue wanting a week-long visit with the older two, Isaiah and Makayla. He didn't want Christian because he didn't have time to take care of a baby. Everything in me screamed not to let them go. I didn't want to, but when the babies saw their daddy they were so excited, despite how he treated them or how much he brushed them off. They loved their daddy so much. How was I going to tell them they couldn't go "Bye-Bye" with Daddy? I couldn't, so they went. He was 4 hours late bringing them back before I contacted the police, who informed me there was nothing they could do. I found his house and banged on his door screaming until finally after what felt like a lifetime he opened the door and I grabbed by babies. That was the last time he had a visit.
We're only part of the way through Jane's* story, and you'll see a few themes keep reappearing:
• Jane's* attempts to do right by her children and create a "normal" family life; and,
• The unfounded accusations that seem to be resolved in her favor.
Keep an eye out for the third part of Jane's* story, next week.
If you have a moment, I'd love to hear from you. Feel free to share your thoughts by posting your comments here, or emailing me privately.